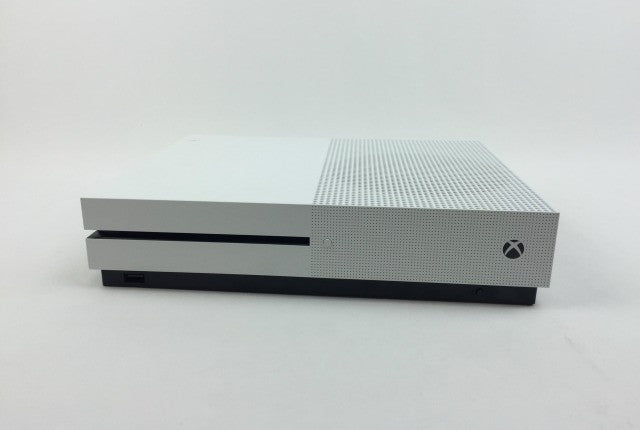 Xbox One S Repair
Update 2/26/2020: TronicsFix is no longer offering repair services. We highly recommend one of our trained techs: ShaneFix
The following info is for reference only
While the Xbox One S is similar to the original console there are some things that are quite a but different. Like having the power supply built into the inside of the console. Any time a new version of game console comes out it seems like there is always the risk of it having more problems since it's brand new. There's no way to know for sure if that's the case with this console or not but either way we can fix it! 
>>> TronicsFix Forum (for help with your specific console questions)
Here are some of the more common problems with this console. 
Not reading discs. If you insert your disc into your Xbox One S and it goes in and you hear it spin up but it doesn't come up on the screen or it tells you that it can't read the disc then it may need a new laser. These blu ray drives also can have mechanical problems just like with the original Xbox One. 
HDMI port problems. While not as common as the original PS4, these consoles have HDMI ports that do break. It's hard to know for sure whether the ports are weak or if users of the console are hard on them by jamming the HDMI cable into it but we see quite a few consoles with broken HDMI ports. Many times the consoles are dropped or fall from the desk they are sitting on right onto the HDMI cord which then pushes the cable back into the port and causes the port to come loose from the motherboard. The only way to fix this is to remove the old port and replace it with a new HDMI port. 
Hard drive issues. If you have error codes such as E201, E101, etc. these codes are often caused by a faulty or corrupted hard drive. Some other things that indicate possible hard drive issues are the green screen of death (the TV just shows the green startup screen), no display on the TV, games freezing, etc. Unfortunately, it's not as easy to replace hard drives on these consoles as it is on things like laptop computers. The system software has to be loaded onto the hard drive and unfortunately, that is not provided by Microsoft. 
Won't turn on. Sometimes an Xbox One S won't even turn on. Unlike the original Xbox One the S has an internal power supply. This power supply can be the cause of not turning on but it could also be other things such as the power button, the RF board or even other components on the motherboard. 
Can I Fix it Myself?
The question we get a lot is "Is this something I can fix myself". The answer to that question is not simple. The only one who really knows the answer to that is yourself. You need to be honest with yourself and realistic with your skills and abilities. If you have some experience with electronics and disassembly then you could very well fix some of these issues yourself (like replacing the disc drive), but there are some problems that are very difficult to repair. Things like HDMI ports would be next to impossible for anyone to fix who has no experience with electronics disassasembly and microsoldering. 
Our advice is to be honest and realistic with your skills and abilities and if you think you can handle it then be sure to use our Youtube videos to help. In the unfortunate event that you find yourself in over your head we are always here if you make it worse!
Here at TronicsFix we are experts in Xbox One S repair as well as most any other game console. Whether you need HDMI port repair, your disc drive isn't working or you just need someone to figure it what's wrong, we can help. If you're interested in our repair services here is the link for our repair page along with more information about the process. 
>>> Xbox One Teardown and Repair Video Playlist
>>> TronicsFix Forum (for help with your specific console questions)