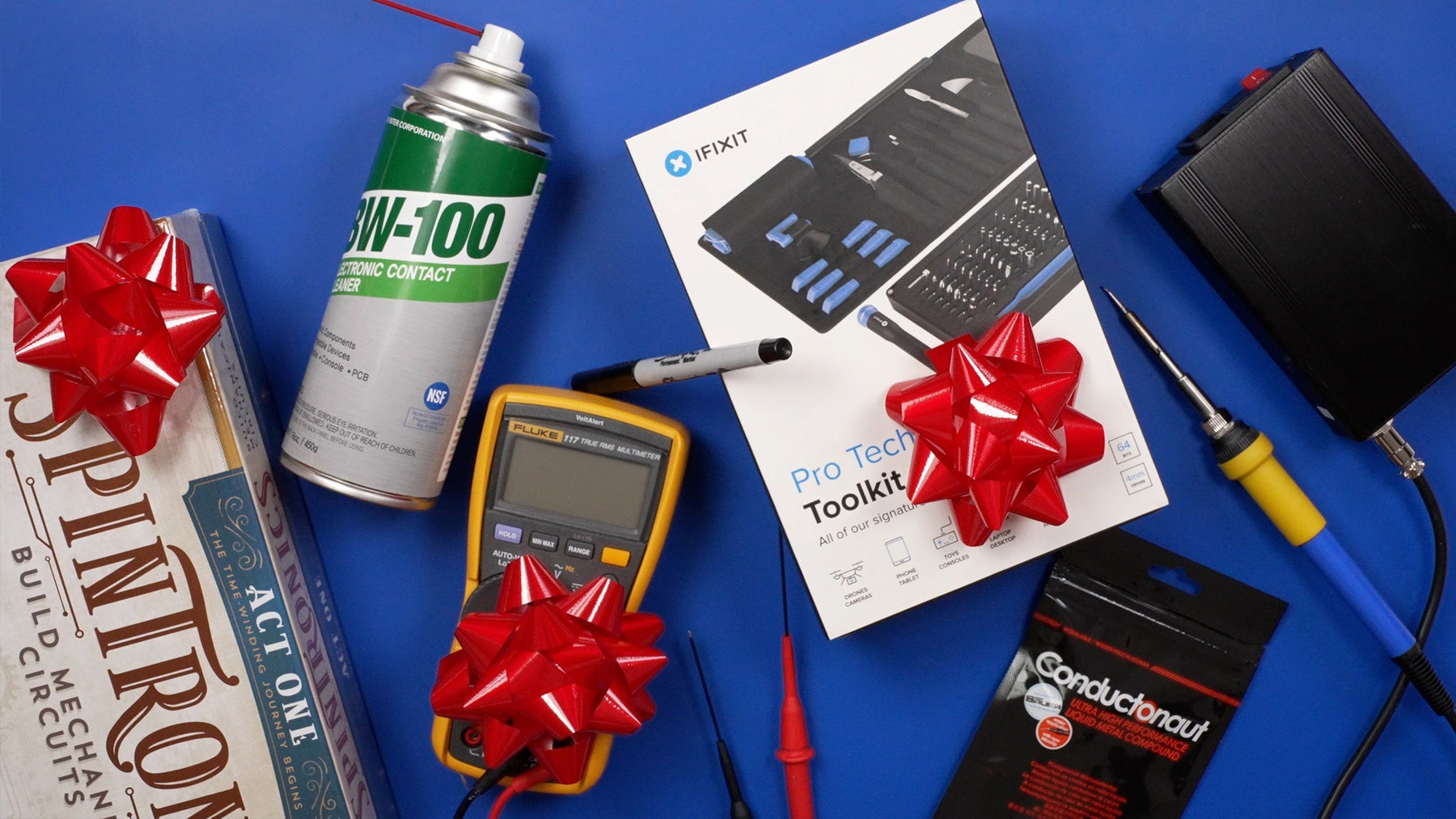 TronicsFix Gift Guide for the Tinkerer and Fixer
Finding a great gift for someone who likes to tinker and fix things can be really difficult. I've got your back! I've been fixing everything from farm equipment to cars to electronics for decades. Below you'll find my list of favorite products and I guarantee there's something (probably more than one thing) that the fixer in your life will LOVE.
Please note: As an Amazon Influencer, I earn from qualifying purchases.
Toolkits
This is a great place to start if you're looking to get started in repair or if you have a cheapo toolkit you can find some really high quality kit to upgrade it with. Every DIYer needs good tools and below are my favorites.
iFixit Pro Tech Toolkit
This toolkit is full of high-quality tools that can help you get into almost any device. The tools will last a long time, but if something does break, it comes with a great warranty. You can email the company, and they will send you a replacement.
iFixit Moray Driver Kit
This toolkit includes all the same great features as the iFixit Pro Tech Toolkit but is smaller and cheaper. It would be a good starter kit for someone just beginning their journey as a DIY enthusiast.

iFixit Repair Business Toolkit
If you are looking for a gift for someone who is starting a business or side job repairing electronics, this is the toolkit for you. It includes all the positive features of the previous toolkits, but is much bigger. It is a great gift for someone who has a career in electronic repairs.
XOOL 62 in 1 Precision Screwdriver Kit
This toolkit has a great price, but you should be prepared if the tools do not last long. Cheaper metal can wear out quickly. A major downside of this type of kit is that you might strip out a screw. That will make a repair much more difficult and take a lot longer. This toolkit is a good option as a backup kit in case of emergency. It would also be a great toolkit if you rarely need to do repairs.
Switch Analog Stick Repair Kit
This toolkit can be used to replace a malfunctioning Nintendo Switch Joystick or Joy-Con controller. Everything you need for the repair is all in one kit. The tools and parts are high quality, so they can last a long time. It is much cheaper to repair the joystick yourself than to take it in to get fixed. As an added bonus, this could be a fun project to do as a family with your kids.
DEWALT Screwdriver Set
It can be hard to find quality screwdrivers that have the right shape of tips to grip Philips screws. These screwdrivers work great for larger screws, and the long shaft is helpful for hard-to-reach screws. This set is also useful to keep around the house for other projects.
Specialty Tools
Many toolkits don't come with some tools that are really nice to have. These specialty tools aren't always an absolute necessity but when you have them it makes repairs so much easier and more enjoyable. Here are my most used specialty tools.
Pick Set
These tools work great to scrape gunk out of cracks and remove corrosion. They can also be used to test the strength of solder joints. The tools can do a lot of damage if you are not extremely careful but we have not found anything that works as well for certain jobs.
wowstick Electric Screwdriver
This is the perfect screwdriver for when you have to remove a lot of nails. It is a lifesaver for me and helps prevent my hand and wrist from getting sore. It makes disassembling and reassembling much faster. If you are a professional repairing electronics for money this tool will save you time which makes you more money.
Stainless Steel Tweezers
These tweezers are made from quality metal and have ends that match up to make grabbing items easier. If the ends don't line up it is a lot harder to use tweezers and you might lose the part you are trying to hold. Tweezers are essential for soldering tiny components and jumper wires. We recommend having a pair for soldering that can get dirty from flux and a pair that is kept clean so they aren't sticky when grabbing clean parts.
Tekpower Power Supply for Diagnostics
This tool is essential and can be utilized in many different ways. It is perfect for projects where you need to provide power to a device, but can't plug the battery in. It also works great when you're working with one specific circuit and don't want to put power to anything else in the device. It can be very useful when trying to find a short because you can put power to the faulty circuit and see what gets hot.
Specialty Multimeter Leads
Fluke Rigid Back Probe Pin Set
These leads work great when you are using really small components. They have tiny, sharp ends, so you have to be careful when using them. They are long and flexible so you can get them wherever you need them.
Fluke Micro-Hook Test Lead Set
These leads have clips and are really good when working with wiring. They can clip onto wires and other components, so you don't have to hold them. They fit most multimeters too.
Multimeters
AstroAI Digital Multimeter
Cheaper multimeters work great for most general repairs. They aren't going to last as long or be as accurate as a more expensive multimeter, though. I used a cheap multimeter for years before upgrading. We recommend starting with this multimeter. Multimeters are devices that work pretty great even when cheap.
Fluke Digital Multimeter
Expensive multimeters are perfect for when you need really accurate readings. Many of them will have parts available so you don't have to replace the whole multimeter. They can be sent back to the manufacturer for repair and calibration when needed. It can be nice to have an expensive multimeter, but you can usually get by just fine with a cheaper one for awhile.
Stripped Screw Extractor Set
These are in case of emergency type of tools. If you buy good tools to begin with you probably won't need these. Screws are usually stripped if there isn't enough downward pressure on the fastener or the user isn't using the correct size for the job. I have only used this set a couple of times in several years, but found them to be extremely helpful in specific situations.
Soldering Equipment and Supplies
When someone is just learning to to solder they'll usually buy a cheap kit to get started. That's a great way to get started and I've listed one of those cheap kits below. Once you start soldering more often it's really nice when you can upgrade your equipment a bit. Good quality, reliable equipment makes soldering much more enjoyable. I've listed my favorite soldering equipment and supplies below.
Hakko Two Station Soldering Station
Hakko is one of the best soldering equipment manufacturers and produces very high quality products. They may be expensive, but they work every time when you turn them on. I have used multiple machines for about seven years and have only had a problem when turning them on once. The two port station is a convenient feature when using two different sizes of irons. I use a large iron and a micro pencil on the same station. A good soldering station makes soldering fast and easy. 
KSGER T12 Soldering Iron Station
This station works pretty well and is much cheaper than the Hakko soldering station. It won't be able to heat as evenly (and heat recovery time will be longer) as the Hakko station and will not last as long. If you don't want to invest money into a station just yet than this one will definitely work. 
Cheapest Soldering Iron Kit
If you are a beginner and are looking for the absolute cheapest soldering station than look no further. There are other similar stations, but the quality is about the same. Those brands buy from AliExpress and sell them on Amazon. This station will work for smaller projects that don't require a lot of heat or precision. It will not last as long as a more expensive one, but it will work in the meantime.
AmScope Professional Analog Microscope
This was the first microscope that I bought for electronics repair. It works fine, but is not ideal. The working distance is, unfortunately, on the short side. It doesn't adjust very well for easy viewing while working, but it's a good analog microscope. 
Andonstar Digital Microscope
I currently use this microscope and really like it. It will take a bit to get used to working while looking at a screen rather than through a lens at your project. It is worth it once you get used to it. I film my work with this microscope and will get a corrupted video every once in a while. It has a nice big screen and is easy to adjust. It also has a really large working distance.
Hakko Smoke Absorber
A fume extractor is not always thought of when you first get into soldering. They are very important as some solder has lead in it. Things like flux, plastic, and other components will also give off smoke that is toxic. This extractor is big and filters a lot of air. It works great and keeps you protected while soldering.
KOTTO Smoke Fume Extractor
If you are not ready or can't afford a large, expensive fume extractor then this a good option. It is better than nothing, but it won't work as well or pull as much smoke. Make sure to keep it close to your workpiece while you are soldering. Whether you get an expensive or cheap fumer extractor it is important to just get one.
Flux Solder Paste
This is my favorite flux because it is thick and tacky. If the flux is too thin it will burn off quickly. This flux doesn't require extra cleaning to remove residue. An all around perfect product!
Arctic Silver Thermal Paste
Arctic Silver 5 uses an older thermal paste formala, but its W/mK rating is 8.7 which is better than many newer types of paste. It is nice and thick while staying where it is put. It works really well for game consoles. We haven't tested it much on computers, though.
Liquid Metal Thermal Paste
There are not a lot of options available for liquid metal. I have used this one a lot and it works well. It comes with a kit that has everything you need in it. Make sure to be careful when working with liquid metal because it comes out of the tube quickly. If you spill it on the board you have to remove ALL of it or it can cause a short.
Jumper Copper Wire
I use this for repairing circuit traces when part of the trace has been broken or scraped away. It has thinner wires for smaller repairs like iPhones. It has an enamel coating that needs to be burned off before it will stick to solder. It works great for permanent repairs of circuit traces.
iFixit Tesa Double Sided Tape
This is the best double tape we have found. I use this for everything from screens to batteries. There are multiple sizes that are commonly used in electronics. It is very sticky so try not to touch it or get it caught in your hair. It will be hard to remove.
Hakko Omnivise Board Holder
This is expensive, but totally worth it. It is so easy to use and doesn't damage boards or components. It will burn and smell bad if you get your hot wand too close, so be careful with that. It can hold many sizes, shapes, and weights of boards. We highly recommend.
Portable Desoldering Tool
This tool is not necessary, but it makes desoldering way easier. It works best through hole components. It is expensive, but we recommend it if you do a lot of soldering.
KOTTO Solder Sucker
I have tried many styles of solder suckers and this is by far my favorite. It is made of metal and can be taken apart to be cleaned. It works every time and is very strong while looking nice as a bonus.
Cleaning Supplies
While not the most sexy gift, good cleaning supplies are essential for anyone who does a lot of (or even just a few) repairs. With all the options when it comes to cleaning supplies it can be really hard to know which products are good. I've tried almost all of them over the course of my career and these are the ones I recommend.
Isopropyl Alcohol Electronics Cleaner
Isopropyl alcohol (IPA) can be used to clean almost anything. It works great for removing adhesive and killing bugs.
IPA Dispensing Bottle
The bottle makes dispensing isopropyl alcohol very easy. It keeps the IPA from evaporating and is cheap.
BW-100 Electronic Contact Cleaner
This is really good for cleaning analog sticks that have stick drift. It has an aerosol container which makes it easy to spray it right where you want it. It is also not flammable.
Cotton Swabs (500 count)
These are great for cleaning small crevices. They can be soaked in IPA and used for cleaning. They work great for removing adhesive.
Foam Cleaning Swabs (200 count)
These have all the great features of the cotton swabs, but don't leave behind any annoying strands. They don't last as long as the cotton swabs, though.
Sprayway Glass Cleaner
This will clean both glass and plastic screens. It doesn't dry out the plastic or leave it with a dull look. It will just clean and shine like you want it to.
Black Disposable Gloves
Gloves are essential when working with dirty and gross stuff. There a lot of options that work fine, but these are the type I use.
Microfiber Cleaning Cloths (12 count)
These are great for general cleaning, but you need to be careful when using them around adhesive. They will leave behind pieces. They can be bought at most stores too.
Heavy Duty Scouring Pads (6 count)
You need to be very careful when using scrubbing pads because they can damage plastic surfaces. These work well and leave minimal scratching. They will still scratch, though. They work great for removing marks on game consoles.
Mr. Clean Magic Eraser (6 count)
These are another product that you need to be super careful with. You shouldn't use them on glossy surfaces. They can be a bit abrasive, but work great for matte surfaces when used carefully.
Workspace Setup
Many people work on their projects or repairs right on the kitchen table, and that can work great for a while, but if you want to get your table back you'll need to set up a dedicated workspace. I've set up many different types of work stations and my recommendations below are what I would use if I were setting up a new work station.
Heat Resistant Desk Mats (2 count)
It is very difficult to find a desk mat that is shipped rolled instead of folded. When mats are shipped folded the creases never come out. This one is great because it is rolled so there are no creases. This mat is smooth so it is easy to clean. Many mats have cutouts for screws and other parts, but those just get dirty and disgusting quickly. This protects what is under it from heat from a soldering iron.
Adjustable Workbench
This is a nice, sturdy workbench. It can hold up to 2,000 pounds. It has a solid wood top and an integrated power strip. It can work for any situations like in a workshop, office, or at home.
Wing-lid Plastic Storage Bin
I use these for most of my parts console and larger parts. They are stackable and can easily fit on shelves. They will keep dust, moisture, and most bugs off of the items.
Stackable Clear Storage Trays (3 count)
These are great for storing small parts. They can also stack so you can fit a lot in a small area if you have limited space. I use them to store phones and other devices that will fit.
Black Stool
This is an inexpensive stool that still holds up well for the price. It's very thickly padded and it's the one I use when filming my videos.
Wire 5-Shelf Storage Unit
If you need more storage space than you should try adding shelves. This is a relatively cheap option and is easy to put together and adjust. It will last a long time for the price. Steve uses them all over his office and studio.
Makita Electric Air Compressor
This air compressor is super quiet compared to other air compressors and has 60dB. It is much cheaper over time than canned air. You also waste less compared to using canned air. This is a great price for a quiet air compressor.
Ultra Fine Point Sharpies
These can be used for marking screw locations when needed. They are super fine which makes them great for small areas. They come in multiple colors to keep track of the different screw sizes or locations.
BLACK+DECKER Handheld Vacuum
This works great for cleaning dirt from electronics or cleaning a workbench. It has a relatively long lasting rechargeable battery. It has an adjustable head and is easy to empty. It is also not super loud for a vacuum.
Fun Stuff
It can't always be all serious work. Sometimes you need to have some fun with what you're doing. Whether you just need a good laugh or you need to defend your space these are great picks to lighten the mood or just get your mind off of a frustrating project.
Our merchandise is perfect for all fixers. It can be super hard to find good gifts for people who like to tinker. Our merchandise comes in many fun designs and is a way to show you support the right to repair our own stuff.
Spintronics Act 1 Game
This game helps you learn how electronics work in a way that you can easily see. It is simultaneously educational and fun. It is the perfect gift for people who want to understand more about how electronics work.
Purchase from Upper Story: Spintronics Act 1 Game
Soldering Kits
These kits help beginners learn in a hands on way. You can get good practice on things that don't really matter if you mess up. They can help you improve your skills quickly. Here are two practice kits we recommend:
Funny Workshop Sign
It is always great to have things around that can make you laugh and lighten the mood. It creates a fun atmosphere which can be nice when you are in the middle of a stressful repair. It is a great gift to give someone when you don't have a clue what to buy for them.
Purchase from Amazon (paid link): Funny Metal Sign
Nerf Pro Stryfe X Dart Semi-Auto Blaster
I love having these around for fun. They are perfect for surprise Nerf wars. This blaster is very powerful and can be cool to display.
Purchase from Amazon (paid link): Nerf Pro Stryfe X Dart Blaster
About the Authors
Steve Porter is a video creator with a passion for DIY repair. When he's not making videos he enjoys hiking, working on his property, and hanging out with his friends and family.
Jocelyn Seaton is a writer for TronicsFix who enjoys helping others learn new things. In her off time you will find her reading and spending time with her family.